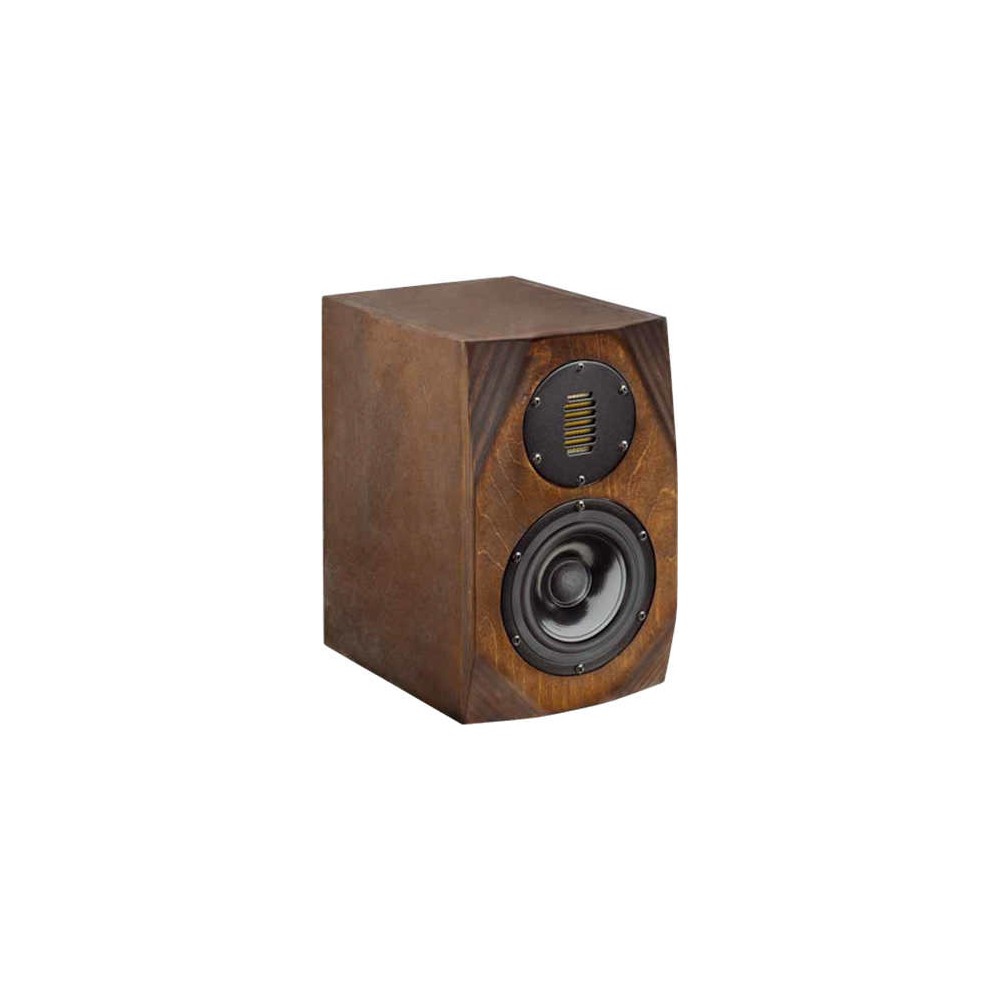  
Ariosa DIY speaker components kit
Ariosa is a 2 way compact speaker with AMT (air-motion-transformer). Published in K+T 3/2017.
The kit provides an air motion tranformer (AMT) and a woofer. The AMT is the Gradient AT1R and the woofer is a Seas CA15RLY.
Ariosa is developed by Thomas Schmidt.
The crossover consists of a 3rd order high-pass filter (18 dB per octave slope) for the tweeter. The woofer is connected to a 2nd order low-pass filter (12 dB per octave slope).
Between 100 Hz and 20000 Hz the frequency response of this loudspeaker is linear on axis. The decay spectrum is nearly perfect. At low volume, i.e. 85 dB at 1 m, the nonlinear distortions are lower than 0.5% above 500 Hz and below 1% at 95 dB at 1 m .
The kit contains:
Air Motion Transformer Gradient AT1R
Seas CA15RLY (H1216-08)
Bass reflex tube HP35, 35x125 mm, black
0,5x PE sealing tape, 5x2 mm, 7.5 m
Damping Sonofil 100 x 35 cm for 20 litres
Binding Post PK31, gold plated (one pair, red and black)
1,5m Speaker cable 2x2.5 mm2, transparent
Pan screws 3.5x17 black, 8 pieces
Pan screws 4x20 black, 8 pieces
Plan for DIY kit
the standard variant crossover components, to be mounted on a small wooden board.
Audaphon MKP CAP Superior 3.3 μF / 400 Vdc
Audaphon MKP CAP Superior 6.8 μF / 400 Vdc
Audaphon MKP CAP Superior 18 μF / 400 Vdc
Audaphon MKT CAP 8.2 μF / 160 Vdc
Audaphon MKT CAP 10 μF / 160 Vdc
Mundorf air core coil L140, 0.82 mH/0.26 Ohm
Mundorf air core coil L140, 1.5 mH/0.38 Ohm
0.7 mm air core coil, 0.39 mH/0.49 Ohm
ceramic resistor 8.2 Ohm/20 Watt
Metal-oxide resistor, 10W 5.6 Ohm (green-blue-gold)
Metal-oxide resistor, 10W 8.2 Ohm (grey-red-gold)
The high-end kit is delivered with baked varnish air core coils for minimizing microphonic effects. - The current flow through the coil creates a magnetic field which sets the reel of wire in motion. This motion induces a voltage in the coil which adds itself to the signal. The stiffer the reel of wire is, the less the signal will be altered. All capacitors are of type polypropylen (MKP). In series to the tweeter Clarity-Cap CSA 630 V are employed.
ClarityCap CSA capacitor 3.3 μF / 630 Vdc
ClarityCap CSA capacitor 6.8 μF / 630 Vdc
Audaphon MKP CAP Superior 8.2 μF / 400 Vdc
Audaphon MKP CAP Superior 10 μF / 400 Vdc
Audaphon MKP CAP Superior 18 μF / 400 Vdc
Mundorf baked varnish air core coil BL71, 0.39 mH/0.51 Ohm
Mundorf baked varnish air core coil BL140, 0.82 mH/0.26 Ohm
Mundorf baked varnish air core coil BL140, 1.5 mH/0.38 Ohm
ceramic resistor 8.2 Ohm/20 Watt
Metal-oxide resistor, 10W 5.6 Ohm (green-blue-gold)
Metal-oxide resistor, 10W 8.2 Ohm (grey-red-gold)
Data sheet
Impedance

8 Ohm

Sensitivity

83 dB

Frequency range

50 - 30000 Hz

Publisher

Klang & Ton magazine

Dimensions

(HxWxD) 316 x 192 x 253 mm