 
Prestige T18REX/XFC - H1353-08/06 7" Coaxial Woofer
The PP/TPX based cone matches ideally with the adaptive rubber surround. The result is an outstandingly smooth frequency response from the mid woofer. The coaxially arranged precoated fabric dome high frequency unit has a low resonance frequency and integ
Highlights
Long term power handling (RMS) is 200 Watts (Woofer) and 180 Watts (Tweeter)
The coaxially arranged precoated fabric dome high frequency unit has a low resonance frequency and integrates with the cone driver to a point source
The cone of the woofer acts as a horn loading for the tweeter, and the chassis of the dome unit represents the throat of this horn
Product details
Seas Prestige T18REX/XFC - H1353-08/06 7" Coaxial Woofer
The PP/TPX based cone matches ideally with the adaptive rubber surround. The result is an outstandingly smooth frequency response from the mid woofer. The coaxially arranged precoated fabric dome high frequency unit has a low resonance frequency and integrates with the cone driver to a point source. The cone of the woofer acts as a horn loading for the tweeter, and the chassis of the dome unit represents the throat of this horn.
Extremely stiff and stable injection molded metal basket, keeps the critical components in perfect alignment. Large windows in the basket both above and below the spider reduce sound reflection, air flow noise and cavity resonance to a minimum.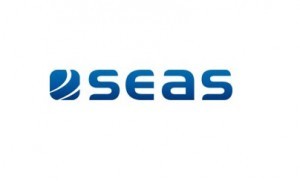 Data sheet
Impedance

8 Ohm

Driver type

Coaxial

Sensitivity

87.5 dB 2.83V/1m

Frequency range

30 - 25000 Hz

Resonance frequency (fs)

30 Hz

DC resistance (Re)

6.2 ohms

Mechanical Q (Qms)

1.64

Electrical Q at Fs (Qes)

0.29

Total Q factor (Qts)

0.24

Speaker diameter

7"

Power handling

300 W

Voice coil inductance (L)

0.70 mH

Effective mechanical mass incl air load (mms)

0.82g

Equivalent volume of compliance (Vas)

1.48 ft.³

Overall diameter

6.93"

Mounting diameter

5.72"