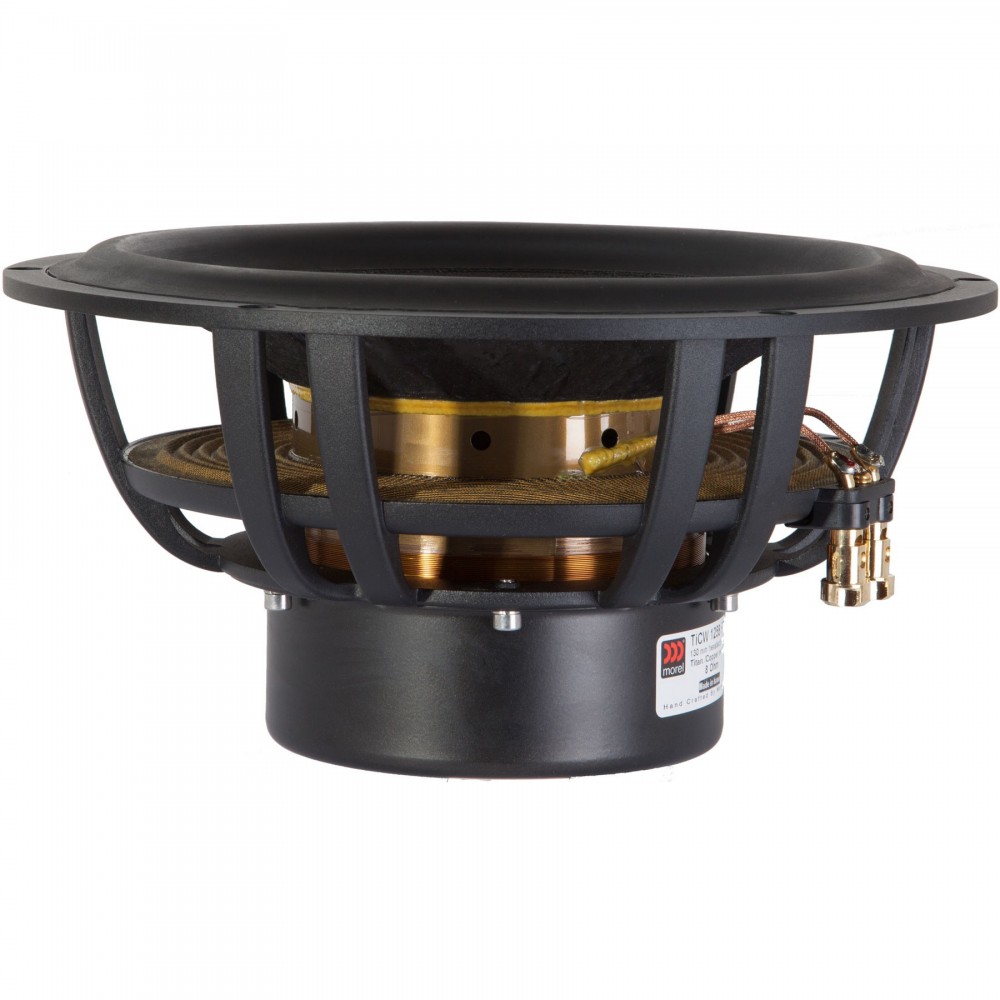  
TiCW 1258Ft Titanium Series 12" Subwoofer 8 Ohm
To create their Titanium Ultimate high fidelity 12" subwoofer, Morel began with an extra-large, 5.1" diameter, Hexatech™ aluminum voice coil wound on a vented titanium former. Moving this beast requires huge amounts of magnetic force, so to do so Morel us
Morel applied their years of experience and creative genius to produce a world-beating sub-bass driver…the Titanium Ultimate 12" subwoofer.
Highlights
Copper-sleeved pole piece and titanium former reduce speed-depleting inductance
8 ohm impedance for a high damping factor and more amplifier control
5.1" Hexatech voice coil for 600 watts RMS power handling
Accucenter self-centering, one-piece paper cone assembly
Product details
Morel TiCW 1258Ft Titanium Series 12" Subwoofer 8 Ohm
To create their Titanium Ultimate high fidelity 12" subwoofer, Morel began with an extra-large, 5.1" diameter, Hexatech™ aluminum voice coil wound on a vented titanium former. Moving this beast requires huge amounts of magnetic force, so to do so Morel uses a high flux double magnet system.
Speed-robbing energy storage is reduced to an insanely low 0.62 mH through the combination of the titanium former and a copper-sleeved pole piece. Trapped air within the subwoofer is virtually inexistent due to the Uniflow™ cast aluminum chassis, which works with the Accucenter™ self-centering cone assembly to reduce distortion and the effects of power compression.
Data sheet
Impedance

8 Ohm

Driver type

subwoofer

Sensitivity

88 dB 2.83V/1m

Frequency range

19 - 2000 Hz

Resonance frequency (fs)

19 Hz

DC resistance (Re)

6.4 ohms

Mechanical Q (Qms)

4.03

Electrical Q at Fs (Qes)

0.38

Total Q factor (Qts)

0.34

Speaker diameter

12"

Power handling

3

Voice coil inductance (L)

0.62 mH

Effective mechanical mass incl air load (mms)

110g

Effective piston radiating area (Sd)

437 cm²

Force factor (BL)

15.25 Tm

Equivalent volume of compliance (Vas)

6.02 ft.³

Overall diameter

12"

Mounting diameter

10.6"