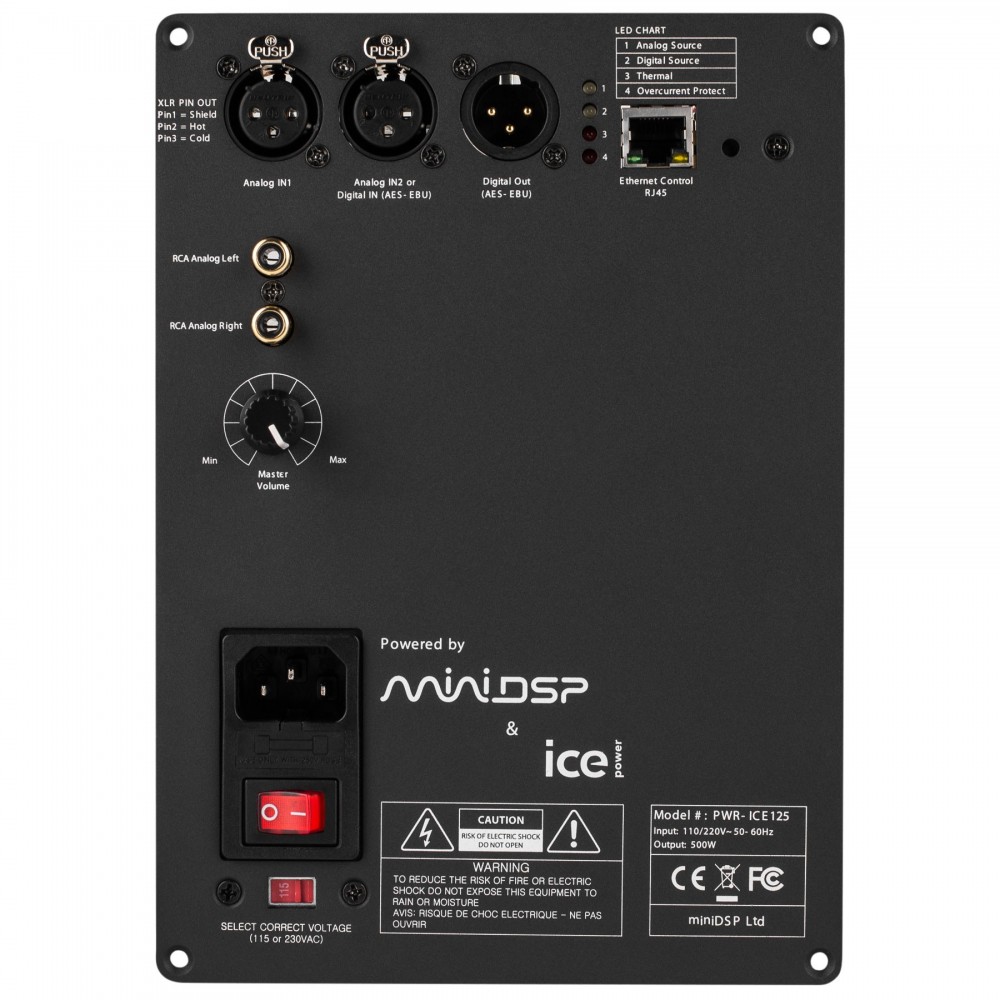  
PWR-ICE125 2x125 Watt DSP ICEpower Plate Amplifier
2x125W @ 4Ω or 1 x 450W @ 4Ω DSP plate amplifier, Powered by ICEpower® 125ASX2 module, Ethernet control, FIR + IIR filters
2x125W @ 4Ω or 1 x 450W @ 4Ω DSP plate amplifier, Powered by ICEpower® 125ASX2 module, Ethernet control, FIR + IIR filters
Highlights
DSP Powered plate amplifier
FIR + IIR filter options (please consult manual for details)
Powered by ICEpower® technology for 2x125W @ 4Ω or 1 x 450W @ 4Ω
Windows & Mac IP control
Analog & Digital input
Multi-unit control via Ethernet
Product details
PWR-ICE125 2 x 125 Watt DSP ICEpower Plate Amplifier
Note: This product comes with a coupon (€9,50) for one free miniDSP plugin download.
Introducing the PWR-ICE125, a DSP powered plate amplifier module for active 2 way loudspeakers or mono subwoofers. Result of the collaborative effort of two innovative technology companies, the PWR-ICEs series key features are:
On the processing side is miniDSP's innovative software & firmware allowing a Plug & Play real time control of the onboard DSP over Ethernet/Wifi networks. Using our Zero Conf technology, multiple modules are automatically discovered and controlled from a single User interface in real time. The onboard Digital Signal Processors (DSP) provide real time all the processing a speaker designers will expect to excel at his crossover design task. These include FIR and IIR filters (biquad input), Parametric Equalizers (PEQ), level, crossovers, comp/limiter, delay and more. The Graphical User Interface (GUI) platform is supported on both Mac and Windows environment.
On the power amplifier side, the ICEpower® modules are complete AC plug-to-speaker amplification audio solutions offering flexible two-channel or bridgeable speaker drive. Their compact size, audiophile audio quality and high power output make them perfect for high-performing audio products. The amplifier is rated for up to 2x125W @ 4Ω or 1 x 450W @ 4Ω.
As for audio connectivity, the PWR-ICE125 is fitted with both analog balanced (XLR) & unbalanced inputs (RCA) to provide maximum compatibility. A digital input (AES-EBU) saves on the A-D conversion for maximum performance while a Digital output (AES-EBU) allows multiple plate amplifiers to be linked to each other.
What's in the box?
1 x PWR-ICE125 amplifier module
1 x CAT5 patch cable
1 x IEC power cord
4 x black wood screws for mounting
1 x Speaker wire harness to connect amplifier to speaker (60cm long)
1 x Coupon code for miniDSP plugin download
 
System Diagram